A truly outdoor projector: Nebula Mars 3
Very often I have the need to present some content, especially photos and related stuff, in different places and environments. This requires a reliable, high quality projector. I was lucky enough to be among a select group of beta testers who got to try out the new Nebula Mars 3 outdoor projector weeks before its official launch. Let´s see if it can fulfill my needs.
Design & Portability
The Nebula Mars 3 has a sleek and robust design that is perfect for outdoor adventures. Its weight of 3kg / 6.61 lbs is still acceptable for taking to the campsite or anywhere else. It has a large sliding door on the front that doubles as a power switch. So to turn the projector on, simply slide it down and the projector will turn on. At the back, there is another flap that hides various ports: HDMI, USB-A and USB-C, and a 3.5mm stereo. There´s also a power socket for 180W power source and a switch to control the built-in LED light with three brightness levels. At the top, the well-designed handle also has backlit control buttons and a joystick so you can control the projector even without remote control. Also there is a circular display that shows battery status and the selected projection mode. Finally, at the bottom, there´s a very sturdy folding stand and a standard tripod socket. All in all, it´s a very good-looking piece of hardware.
The projector has an IPX3 rating, it´s dust protected and should be able to withstand a drop from up to 0.5 metres. Personally, I have used it in quite a dusty environment and it has survived light rain without any problems.
Technical Specifications
The Nebula Mars 3 runs Android TV 11, which is already widely used in modern TVs and other streaming devices. Initial setup was quick and very easy using my phone. I was then able to install all my favourite apps for streaming and music. You can, of course, use it to stream media from your phone via Chromecast. The native resolution is Full HD (1080p, 1920x1080) and it uses DLP (LED) technology with a maximum brightness of 1000 ANSI lumens and a contrast ratio of 400:1. There are three projection modes - Eco (300 ANSI lumens), Standard (1000 ANSI lumens) and AI mode, in which the projector sets the best luminance according to the available ambient light. The maximum playback time is 5 hours thanks to the 185Wh battery, and one of the cool features is the ability to charge small devices such as mobile phones via the available USB ports. There are also 3 physical speakers with 40W output and Dolby audio. The projector can also be fitted with a Bluetooth speaker.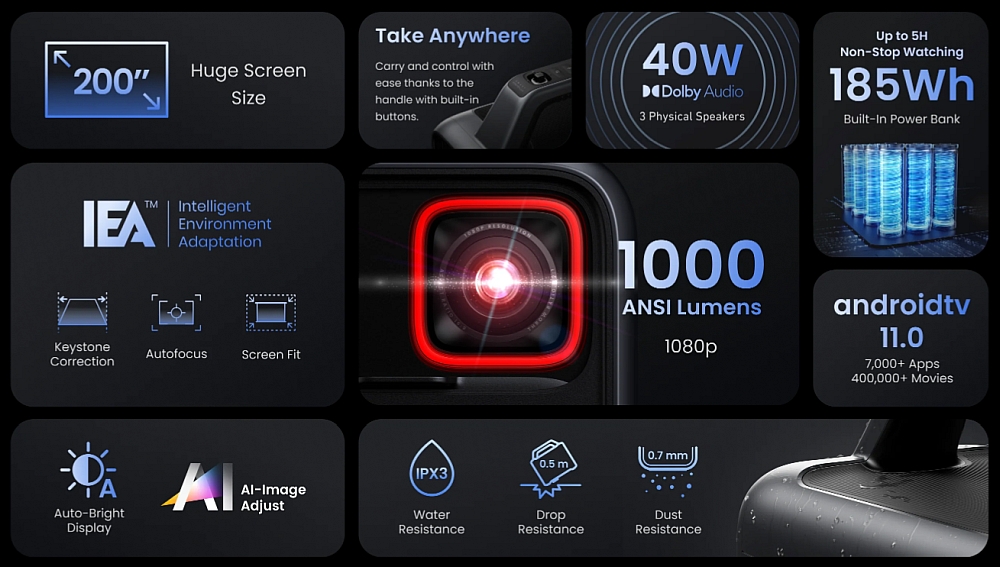 Another cool and handy feature that I used a lot is IEA (Intelligent Environment Adaptation). This means that the projector can do automatic keystone correction, focus correction and even screen adjustment. There are also internal sensors, so if you move the projector, it will automatically make the corrections for you. The maximum declared projection size is 200" (508cm), but it´s recommended to use it for image sizes from 80" to 150" (203 - 381cm).
My experience
All the above specs and features look very promising on paper, but how it performs in real life is what matters most. I have to mention the look of the projector again - I really like the simple and functional design. As soon as I slide down the front cover, the red edge around the projection lens lights up red and the projector starts to boot, first displaying the ´NEBULA´ logo and then ´androidtv´. Seconds later, the familiar Android TV environment appears. The projector makes automatic corrections, so in most cases no further manual adjustments are required. But you can always access them from the menu. I had no problem playing content from installed apps such as Prime Video, F1 TV, YouTube and others. However, a workaround is needed to play content from Netflix published on the manufacturer´s website. You can´t install Netflix from the App Store, you have to use the Nebula app to get it to work. I also played content via an SMB-connected file share, media stored on the unit itself or via the connected HDMI port.
The projected image is brilliant. I tested many image projection sizes and I am happy to say that it was always a pleasant experience. I really liked how the projector was able to automatically adjust focus and size when using my 120" screen. The sound was also loud enough and pleasant. I never had to turn up the volume anywhere near maximal value.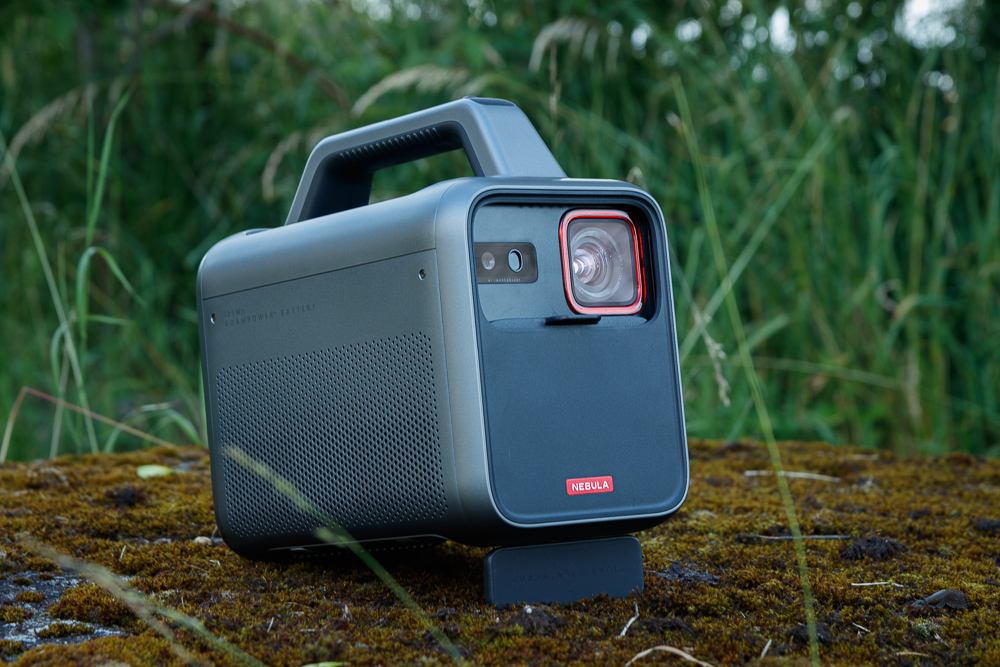 Support & Updates
During the time I was testing Nebula Mars 3, it was still in beta, so some things were not so smooth. However, being able to communicate directly with the engineers, give feedback and report problems really made me feel how serious the company is not only about their products but also about their support. There were many software updates to fix reported issues with a very quick turnaround time during my testing. This is a very important point for any potential buyer - the company that supports its product and tries to improve the user experience. Not like some others who launch a product and that´s it, no update or fix is even available.
Conclusion
I have to say that this has been a very pleasant experience overall. The design of the projector is very smooth and well thought out. The outdoor features stand out the most, being able to take the projector outdoors and use it in different environments is just perfect. The Nebula team behind the projector are still working hard to provide the best possible user experience. I like to test new products before they are released to the public and I really liked being able to give direct feedback, report problems and suggest new features/improvements to the engineers. What a pleasure! The Nebula Mars 3 has easily become my favourite piece of entertainment and presentation hardware. Well done!
Product website: https://us.seenebula.com/pages/d2333-mars-3